Governor's Message
For all of us, COVID19 will for­ev­er be etched in our col­lec­tive mem­o­ry and change us.
I have heard com­ments like: " I can hard­ly wait to get back to nor­mal" or "I am still wait­ing for the new normal".
I do not know what the new nor­mal is, nor when it will get here. In times of uncer­tain­ty, it would be too easy to sit on our hands and wait for that mag­i­cal date to arrive ‑or- just bliss­ful­ly ignore.
An often quot­ed say­ing sticks with me:
"Life isn't about wait­ing for the storm to pass. It's about learn­ing to dance in the rain"
As a Kiwan­ian, I know we will find ways to adapt, to rein­vent our­selves and meet this chal­lenge. It is our reac­tion and cre­ativ­i­ty that will deter­mine our future.
I am encour­aged, already see­ing changes in clubs safe­ly meet­ing, adapt­ing ser­vice projects, still recruit­ing new mem­bers, and fundrais­ing online.
Don't sit on your hands, be smart, be safe, be opti­mistic and find ways to serve chil­dren and make a dif­fer­ence in your community.
Yes, it is storm­ing out. Will you join me and oth­er Kiwa­ni­ans learn­ing to "dance in the rain"?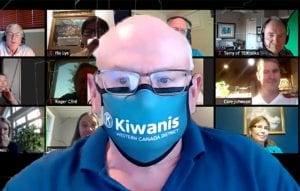 Roland
Roland Sabourin
Gov­er­nor 2020 — 2021
Kiwa­nis West­ern Cana­da District